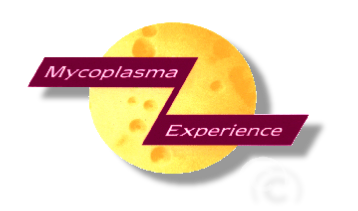 PROCEDURES FOR THE ERADICATION OF MYCOPLASMAS FROM CELL CULTURES
Before embarking upon eradication, the mycoplasma contaminant is identified and cultured in liquid medium to a high titre. Minimum inhibitory concentrations (MIC) are established with these cultures against a range of anti-mycoplasma antibiotics suitable for use in cell-cultures. In addition, specific antiserum to the species identified is tested for its ability to inhibit growth of the contaminant.
When these tests are complete, containers of antiserum and anti-mycoplasma antibiotic (at concentrations known to be inhibitory after dilution) are dispatched to the cell culture laboratory with a container of ampicillin.
Two phases of cell sub-cultivation are required, one for eradication and one for confirmation that the eradication phase has been successful. Firstly, subculture in medium containing specific antiserum combined with an anti-mycoplasma antibiotic, and secondly, subculture in the absence of mycoplasma inhibitors to ensure that any residual mycoplasmas will be detected in the event of an unlikely failure of the eradication phase.
See eradication procedures for an example of the eradication schedule.
Copies of test sheets and media lot validation forms are included with the final report.